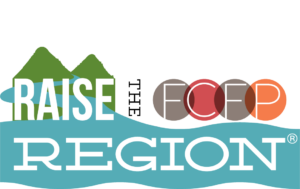 FCFP in collaboration with Blaise Alexander Family Dealerships, hosted Raise the Region 2021 on March 10 and 11, to help the communities of Columbia, Lycoming, Montour, Northumberland, Snyder, and Union Counties support local nonprofit organizations fundraising efforts.
North central Pennsylvania showed its true spirit of philanthropy by donating $2,030,674 to 272 nonprofit organizations. The 30-hour online fundraiser had thousands of donors make 14,157 gifts. Since starting in 2013, Raise the Region has collectively received over $12 million in donations for the benefit of local nonprofit organizations.
This year's success demonstrates the incredible spirit of philanthropy that exists in north central Pennsylvania and is reflective of the extraordinary efforts of our nonprofit community. These results represent a 42% increase over last year and are the most successful to date. I'm incredibly proud of our team, inspired by the community and grateful for the FCFP Board of Directors' commitment to this fundraising platform that serves area nonprofits.

Jennifer D. Wilson, President & CEO
In addition to the online public donations, the participating nonprofits benefited from over $260,000 in stretch funds and prizes from the Blaise Alexander Family Dealerships and associate sponsors. Aubrey Alexander said, "Despite the pandemic and economic burdens we have witnessed in the past year, it is reassuring to see the tremendous support from the community of our local nonprofit organizations. Yes, our donation will help many, but the real hard work is performed daily by all these nonprofits and FCFP. These results are truly amazing and will help thousands of people in our community."
Monetary prizes and incentives sponsored by Autotrader, Larson Design Group, Pennsylvania Skill by Miele Manufacturing, Subaru, Toyota Motor Corporation, UPMC and Weis Markets were awarded throughout the day to 75 participating nonprofit organizations. Nonprofits were divided into two categories based on their annual operating budget allowing more organizations to receive prizes.
The Blaise Alexander Family Dealerships Grand Prize awards the top small and large nonprofits with the most unique donors throughout the 30-hour period.
$5,000 is awarded to each of the first prize winners
$1,000 is awarded to each of the third prize winners
small nonprofit:
Large nonprofit: